From Gatestone Institute, July 24, 2014, by Khaled Abu Toameh:
Until recently, Palestinian Authority [PA] President Mahmoud Abbas was very critical of Hamas and Islamic Jihad for their refusal to accept the Egyptian-brokered cease-fire with Israel.
But now Abbas appears to have made a 180-degree turn and has even endorsed the conditions of Hamas and Islamic Jihad for a cease-fire.
The shift in Abbas's position became evident after he visited Doha, Qatar, where he held separate talks with Emir Tamim bin Thani al-Hamad and Hamas leader Khaled Mashaal.
Prior to his visit to Doha, Abbas was in Cairo, where he met with President Abdel Fattah al-Sisi and discussed with him ways of ending the fighting in the Gaza Strip.
During his visit to Cairo, Abbas repeated his call for Hamas and Islamic Jihad to accept the Egyptian cease-fire plan. However, the visit to Qatar appears to have changed Abbas, who has now openly endorsed the conditions of the two groups and is no longer talking about the Egyptian proposal as the only plan on the table.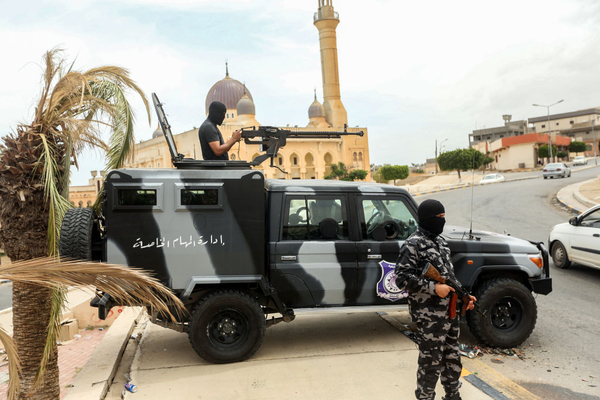 Mahmoud Abbas (r) meets with the Hamas political bureau chief Khaled Mashaal in Qatar, July 20, 2014. (Image source: Handout from the Palestinian Authority President's Office/Thaer Ghanem)

...So what brought about the sudden shift in Abbas's stance toward the war in the Gaza Strip?

One reason could be growing resentment among Palestinians of Abbas and his top officials in the West Bank for their failure to "side with their people" against the Israeli "aggression."

For the first time since the eruption of the war, Palestinians in the West Bank have taken to the streets to condemn Abbas strongly as a "traitor" and demand his removal from power. In some Palestinian cities, Palestinian policemen used live ammunition and tear gas to disperse Palestinians demonstrating against both Israel and the PA leadership.

Evidently, Abbas has reached the conclusion that unless he hurries up and declares his support for the Palestinian "resistance" groups in the Gaza Strip, his people will march on his office and force him to quit

.

That prospect is probably why Abbas decided this week to send his wife and grandchildren to stay at the family's residence in Amman, Jordan. According to various reports, members of Abbas's families left Ramallah "secretly" and headed for Jordan amid increased criticism of the Palestinian Authority president.
Witnesses said that security has been intensified around the home and office of Abbas in Ramallah out of concern for his safety.

Abbas's fear of a Palestinian revolt against his regime has driven him into the open arms of Hamas and Islamic Jihad

.

Another reason for the unexpected change in Abbas's policy could be related to a promise he received from Qatar [the largest funder of Muslim Brotherhood and Hamas]

to provide the Palestinian Authority with financial aid.

If true, this would strain relations between Abbas and al-Sisi, who is despised by Qatar...

Abbas has chosen to be on the side of the Palestinian "resistance" against Israel.... if he wants to survive, he will have to be on the side of the radicals. Moderate statements and policies have only gotten him into trouble.