From The Boston Globe, March 21, 2010, by Jeff Jacoby:
LAST NOVEMBER the government of Israel agreed to a 10-month moratorium on new Jewish housing in the West Bank. The moratorium did not apply ...to eastern Jerusalem, which is home to around 180,000 Israelis — more than a third of Jerusalem's Jewish population. Even with those caveats it was an unprecedented concession, intended, Prime Minister Benjamin Netanyahu said, to "encourage resumption of peace talks with our Palestinian neighbors.''
At the time,
the Obama administration applauded Israel's announcement
. Secretary of State Hillary Clinton hailed it as a "move forward.'' George Mitchell, the president's special envoy to the Middle East, praised it as "a positive development'' and acknowledged that
"it is more than any Israeli government has done before.''
So when Israel's Interior Ministry recently announced its interim approval for the construction of 1,600 new apartments in Jerusalem's Ramat Shlomo neighborhood, it was not reneging on any commitment.
If anyone was guilty of bad faith in the diplomatic crisis that ensued, it was
the Obama administration, which had explicitly accepted the terms of Netanyahu's building freeze in November, yet was now going back on its word
.
...the State Department spokesman then demanded that Israel demonstrate "
through specific actions
" its commitment to peace. Forgotten, apparently, was Netanyahu's unprecedented moratorium of November, to say nothing of the innumerable Israeli goodwill gestures, concessions, prisoner releases, and peace offers to the Palestinians that preceded it — all of them unrequited.
...If the president's goal was to bring Israel and the Palestinians to the negotiating table and thereby revive the so-called
"peace process,"
he couldn't have chosen a more counterproductive tactic. The Palestinian Authority promptly seized the opportunity to back out of the indirect talks it had agreed to — why negotiate for Israeli concessions if Washington can force Israel to deliver them on a silver platter?
...Israel will generally bend over backward to accommodate Washington, but there are some things no Israeli government can relinquish. One of them is the right of Jews to live in Jerusalem — in all of Jerusalem, including the parts of the city conquered by Jordan in 1948 and kept judenrein until 1967. Israelis quarrel over many things, but the vast majority of them agree that Jerusalem must never again be divided. Americans agree as well. Indeed, as a matter of federal law — the Jerusalem Embassy Act of 1995* — it is US policy that "Jerusalem should remain an undivided city in which the rights of every ethnic and religious group are protected.''
As a candidate for president in 2008, Barack Obama said** that was his position too. Millions of pro-Israel American voters believed him, just as they believed his pledge of "unwavering friendship with Israel." The recent unpleasantness suggests it may be time for second thoughts.
*From
US Public Law 104-45, by the 104th Congress of the United States:
Jerusalem Embassy Act of 1995
[does this make Obama a

lawbreaker

?]:
...
(
2) Since 1950, the city of Jerusalem has been the capital of the State of Israel.
...
(4) The city of Jerusalem is the spiritual center of Judaism, and is also considered a holy city by the members of other religious faiths.
(5) From 1948-1967, Jerusalem was a divided city and Israeli citizens of all faiths as well as Jewish citizens of all states were denied access to holy sites in the area controlled by Jordan.
(6) In 1967, the city of Jerusalem was reunited during the conflict known as the Six Day War.
(7) Since 1967, Jerusalem has been a united city administered by Israel, and persons of all religious faiths have been guaranteed full access to holy sites within the city.
(8) This year [1995] marks the 28th consecutive year that Jerusalem has been administered as a unified city in which the rights of all faiths have been respected and protected.
(9) In 1990, the congress unanimously adopted Senate Concurrent Resolution 106, which declares that the Congress ''strongly believes that

Jerusalem must remain an undivided city

in which the rights of every ethnic and religious group are protected''.
(10) In 1992, the United States Senate and House of Representatives unanimously adopted Senate Concurrent Resolution 113 of the One Hundred Second Congress to commemorate the 25th anniversary of the reunification of Jerusalem, and reaffirming congressional sentiment that

Jerusalem must remain an undivided city

....
**From the remarks of Senator Barack Obama: AIPAC Policy Conference, Washington, DC, June 04, 2008 [does this make him

fraud

?]:
Let me be clear. Israel's security is sacrosanct. It is non-negotiable. The Palestinians need a state that is contiguous and cohesive, and that allows them to prosper – but any agreement with the Palestinian people must preserve Israel's identity as a Jewish state, with secure, recognized and defensible borders.

Jerusalem will remain the capital of Israel, and it must remain undivided

.
From Daniel Pipes Blog, March 22, 2010: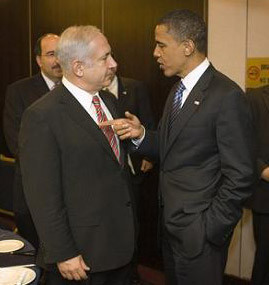 Netanyahu has meets Obama (on a previous occasion).
[Does Obama look like a

bully

?]