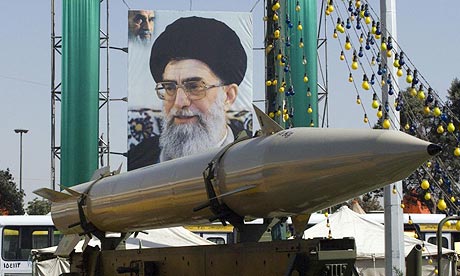 Iran is continuing to develop missiles capable of delivering nuclear weapons despite an interim agreement on its nuclear programs, according to a Pentagon report.
"Although Iran has paused progress in some areas of its nuclear program and fulfilled its obligations under the Joint Plan of Action (JPOA), it continues to develop technological capabilities that also could be applicable to nuclear weapons, including ballistic missile development..."...
...Iran's military also continues to threaten the strategic Strait of Hormuz, the Pentagon report said.
"Iran continues to develop its capabilities to control the Strait of Hormuz and avenues of approach in the event of a military conflict..." ..Tehran is "quietly fielding increasingly lethal weapon systems, including more advanced naval mines, small but capable submarines, armed unmanned aerial vehicles, coastal defense cruise missile batteries, attack craft, and ant ship-capable missiles."
U.S. officials said Iranian backing for Houthi rebels in Yemen is also aimed at gaining access to the strategic Red Sea strait called the Bab-el-Mandeb, which, like the Strait of Hormuz, could be used by Iran to disrupt oil and other shipping.
Tehran's support for terrorism also has not stopped, according to the Pentagon.
"Iran's covert activities appear to be continuing unabated...The Islamic Revolutionary Guard Corps-Qods Force (IRGC-QF) remains a key tool of lran's foreign policy and power projection, particularly in Iraq, Syria, Lebanon, Bahrain, and Yemen."...
U.S. officials disclosed to the Free Beacon last week that Iran is increasing the number of Quds Force fighters and Lebanese Hezbollah militants it is sending to Yemen, to support pro-Iran Houthi rebels there.
...Iranian forces have been working with Iraq's government to battle Islamic State forces that have taken over large portions of that Middle East state. They have included IRGC fighters.
...Iran is seeking to become the dominant regional power and in pursuit of that aim has "unwaveringly sought to improve its deterrent capabilities and increase its regional influence."...
...Ilan Berman, an Iran specialist with the American Foreign Policy Council, said...
"The study is long overdue, and its delay suggests that the administration has been leery of injecting inconvenient facts into the Iran debate as it closes in on a nuclear deal with the regime in Tehran...
"The findings of the report confirm that Iran's destructive regional activities have not abated over the past year....
"If anything, they have increased despite Iran's dialogue with the West...
"The product can be seen in the battlefield victories of Yemen's Iran-supported Houthi rebels, of the persistence of the Assad regime in Syria, and of the growing profile and capabilities of Iraq's Shi'a militias. Iran's activities represent a significant challenge to peace and security in the Middle East...
"The real question is what, if anything, the White House is prepared to do about it?"...
Mark Dubowitz [executive director of the Foundation for Defense of Democracies], another Iran expert, said Tehran is continuing to develop long-range ballistic missiles capable of carrying nuclear warheads, in violation of U.N. Security Council limits.
"The Obama administration ceded to Iranian demands that their missile program was non-negotiable and, instead, has tried to reassure Congress that this missile threat can be mitigated by constraining Iran's ability to develop a nuclear warhead...
"This major administration concession to Iran will greatly complicate the U.S. intelligence community's ability to detect whether Iran has develop a nuclear warhead-carrying ICBM capable of reaching the continental United States ...By its very nature, it is much more difficult to detect and prevent warhead development, which can take place in small, covert facilities, than it is to determine the nature and extent of a hostile missile program. In yet another example of how deeply flawed the emerging Iran deal will be, Tehran will have a much easier pathway to develop systems."