From Ynet News 7 Dec 2014, by Roi Kais:
Syrian sources release short video reportedly documenting moment of attack on target in town of Dimas; Former Syrian Commander says target may have been arms shipments meant for Hezbollah.
Syrian sources released on Sunday night a short video documenting the IAF strike on a security installation in the town of Dimas, one of the three targets that were bombed, according to Syrian reports, by Israeli Air Force warplanes. There were no casualties, according to the reports.
Earlier, Syrian television said that IAF warplanes attacked three targets on the outskirts of Damascus, two of which were near the international airport and in the town of Dimas.
The Syrian army confirmed facilities were damaged ...
Alleged Israeli strike on Damascus installation
Salim Idris, former head of the Supreme Military Council of the Free Syrian Army, spoke to a subsidiary station of the Al Arabiya news channel, saying that the target of the alleged airstrike in Syria may have been shipments of weapons that were to be delivered to Hezbollah.
Since Syria's conflict began in March 2011, Israel has carried out several airstrikes in Syria that have targeted sophisticated weapons systems, including Russian-made anti-aircraft missiles and Iranian-made missiles, believed to be destined for Israel's arch foe – the Lebanese Hezbollah militant group.
Israel has never confirmed the strikes, and on Sunday the Israeli military said it does not comment on "foreign reports."...
The Syrian Observatory for Human Rights, a Britain-based group that monitors the country's civil war through a network of activists on the ground, said the strike near the Damascus airport hit a warehouse for imports and exports, although it was unclear what was in the building.
The Observatory also said that around 10 explosions could be heard outside a military area near Dimas. It had no word on casualties in either strike.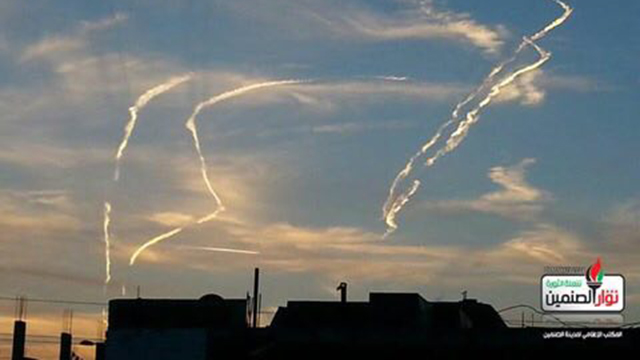 Alleged IAF strike
While Israel has tried to stay out of the war in neighboring Syria, Prime Minister Benjamin Netanyahu has repeatedly threatened to take military action to prevent Syria from transferring sophisticated weapons to its ally Hezbollah. Israel and Hezbollah are bitter enemies and fought an intense monthlong war in 2006.
In May 2013, a series of Israeli airstrikes near Damascus targeted what Israeli officials said were shipments of Iranian-made Fateh-110 missiles bound for Hezbollah.....