From Ynet News, 25 Aug 2014, by Smadar Perry:
Hamas gave the order for the execution of 'collaborators' as soon as Israel hit the house containing three of its most senior field operatives.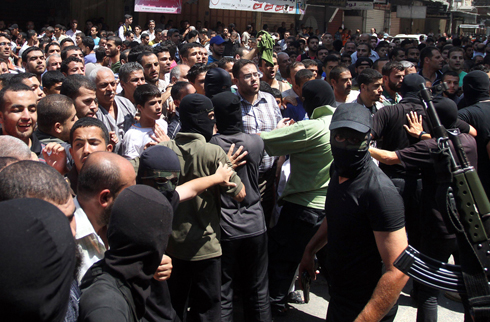 Hamas executing suspected collaborators with Israel (Photo: AFP)
"Operation Strangulation" was carried out in two horrifying stages: Eleven people, including two women, who had been convicted over the death of Gazans, were thrown on Friday morning into the busy intersection in front of Al-Azhar University in Gaza City. Their hands were tied behind their backs, their mouths gagged, and no word of supplication for their lives was uttered. The executioners waited until the curious masses had gathered – the children were not kept away - and put bullets into each of the 11 heads.
That afternoon, a firing squad from the Hamas military wing assembled in the Great Mosque complex. Worshipers were then presented with a grisly surprise: the executioners and their seven victims, all of whom were masked. There was a short salvo, and the waiting ambulance was loaded up. And there was no rest for these executioners on Saturday, when they killed another four.
... the Hamas military wing executioners were given their orders immediately after Israel eliminated its three senior field commanders in one strike on a house in Rafah.... Khaled Mashal's Cairo-based deputy Moussa Abu Marzouk made a slip of the tongue when asked what pushed them to firing squads and dragging the victims into the town square in the middle of a war:
"Because of the pressure put on us by the residents of Gaza, because of the cries of despair and so that there would not be further chaos. We decided to create deterrence, so that people would not try to be clever."
...the charge sheets in Gaza say that hidden hands in the Strip gave the signal, issued reports, passed on correct addresses and delivered mobile numbers. With all due respect to technology, in Gaza they believe that without the suspected collaborators, there would be no eliminations. And when the military wing absorbs a blow, the military wing then settles those accounts ...
Hundreds of kilometers from Abu Marzouk, at "revolutionary tribunals" that had "seen proof", the "traitors" and "agents" "signed "fateful confessions" and were condemned without legal defense. For when the Air Force warplanes are bombing, Hamas does not bother with lawyers.
As it appears from here, this did not go so well for Hamas. The world has not yet recovered from the video of a masked man slashing the throat of American journalist James Foley, and threatening, like Hamas, to keep on executing people. We are not ISIS, said Mashal, we're not a religious extremist organization, and "only" fighting against the Israeli enemy.
Oh really? I suggest you take a look at why you didn't get any applause from the Arab world. Or, just once, conduct an opinion poll to see who your people hate more, Israel or "the resistance" that has destroyed lives and homes and property. What would you do with the 1.8 million Gazans if they [weren't] afraid to tell you what they really think? It is true that they hate and curse us, but they hate and curse you no less.