From Huffington Post, 28 Oct 2011, by
AMY TEIBEL: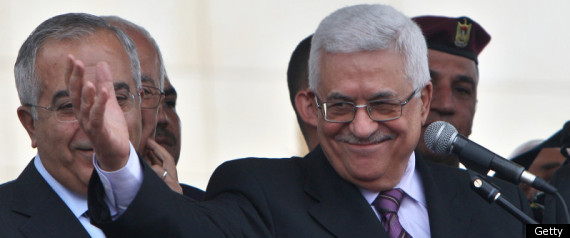 JERUSALEM — The Palestinian president, in a remarkable assessment delivered on Israeli TV, said Friday the Arab world erred in rejecting the United Nations' 1947 plan to partition Palestine into a Palestinian and a Jewish state.
The Palestinian and Arab refusal to accept a U.N. plan to partition the then-British-controlled mandate of Palestine sparked widespread fighting, then Arab military intervention after Israel declared independence the following year. The Arabs lost the war.
"It was our mistake. It was an Arab mistake as a whole..."
Abbas also addressed his negotiations with former Israeli leader Ehud Olmert, now in the spotlight because of the publication of the memoirs of former U.S. Secretary of State, Condoleezza Rice.
Rice backs Israel's account that Olmert made a peace offer that was rejected...
Abbas claimed that he and Olmert were "very close" to reaching a peace agreement in 2008, before the Israeli leader left office under the cloud of corruption allegations. ....He confirmed Olmert's account that the Israeli leader was prepared to withdraw from 93.5 percent of the West Bank. ...In her forthcoming book, "No Higher Honor," excerpted in Newsweek this week, Rice claims that the Palestinians rejected Olmert's proposal.
Rice said Olmert proposed in a May 2008 conversation with her to cede about 94 percent of the West Bank, and to share sovereignty over the disputed holy city of Jerusalem and put an international body in charge of its religious shrines.
In its waning days, Rice wrote, the administration of President George W. Bush tried one last time to wrest a peace deal: "To have an Israeli prime minister on record offering those remarkable elements and a Palestinian president accepting them would have pushed the peace process to a new level. Abbas refused."
In their last meeting before Bush left office in December 2008, "The President took Abbas into the Oval Office alone and appealed to him to reconsider. The Palestinian stood firm, and the idea died," Rice wrote.
On Friday, the chief Palestinian negotiator told The Associated Press that the Palestinians had never rejected the Israeli offer.
...In his interview with Channel 2, Abbas acknowledged the Palestinians might not be able to muster the necessary nine votes in the 15-member Security Council to approve the statehood bid...